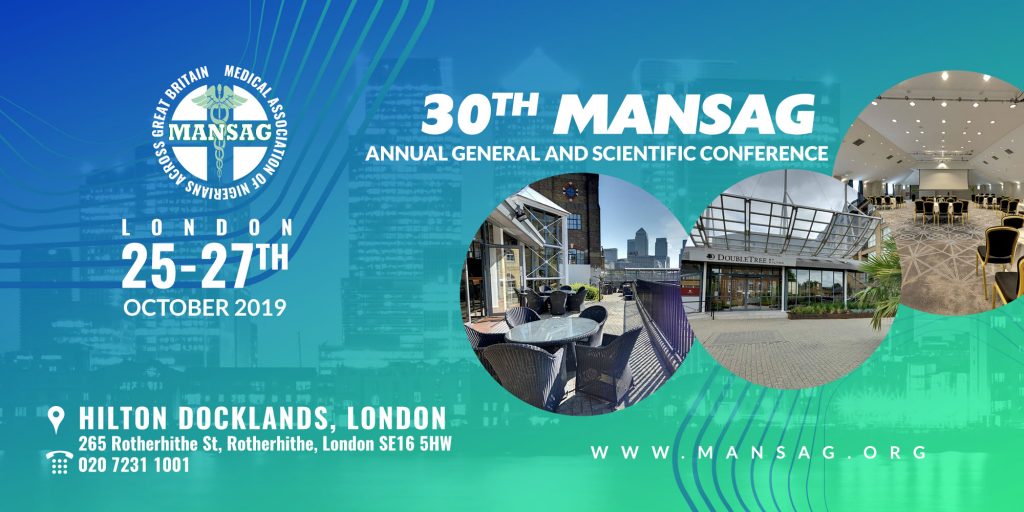 The Medical Association of Nigerians Across Great Britain (MANSAG) – an organisation representing doctors and allied health professionals of Nigerian origin in the UK – would like to invite you to join us for our annual conference and ball. The theme, "Looking to the Future" will see us vigorously discussing what the future holds for healthcare provision and healthcare workers and how we can capitalise on our collective expertise to improve the quality of healthcare we provide both in the UK and in Nigeria.
Programme*
*we will continue to add interesting and reputable speakers to our programme as availability is confirmed*
Friday 25th October: 18:00 – 21:30
– NHS Pensions – How are our futures affected?
– Youth Violence in the UK – A Public Health Issue?
– Presidents' Round Table
Saturday 26th October:
– Conference 08:00 – 17:00
– AGM – 17:00 – 18:00
– Dinner & Dance 19:30 – 01:00
Session One: The Future of Healthcare Delivery
a) Technology in the future of healthcare Provision – Opportunities & Challenges
b) Technology in Practice within the NHS – Lessons to be learned
c) Preparing to lead the future of healthcare
Session Two: Healthcare Challenges of the Future – How are we preparing?
a) Universal Healthcare coverage in Nigeria – where are we now?
b) Advancing Medical Care & Improving Outcomes
c) A future beyond Antibiotics?
d) African Research Excellence Fund
e) Role of International Doctors in the improving quality of care in the NHS & GMC role in supporting them
LUNCH – Hot buffet lunch provided
Session Three: Improving Quality of Care:
a) Engaging and Optimising Bicultural Expertise to improve quality of care
b) Role of the Private-Public Partnerships in improving the quality of healthcare
c) Engaging with the Nigerian System – Case Studies
d) Financing Healthcare Investments
Booking accommodation:
Please click on the link below to book accommodation at a specially discounted rate for this event, which also includes breakfast in the excellent restaurant. This rate will expire on 25th Sept 2019
//eventsathilton.com/show/5d56a44f31a60a70fe693d2c
Food:
All prices are inclusive of food and some drinks. On Friday evening, there will be a buffet dinner. On Saturday, tea, coffee and refreshments will be provided throughout the conference. There will also be a hot lunch and a 3-course seated dinner provided.
Menu:
Grilled sea bass, tomato and cucumber salad red pepper honey and lime salsa
*
Pot roasted jerk chicken, yam spring onion and potato mash, baby corn & tomato & carrot gravy
*
Lemon & ginger tart with berries and mango coulis
IF YOU HAVE ANY SPECIFIC DIETARY REQUIREMENTS, PLEASE E-MAIL trainee@mansag.org or trainee.mansag@gmail.com
Getting to the Location:
There are various ways to get to the hotel, including by car, public transport and ferry. Please input the provided address into your navigation system and you will be guided to it. For those who would like to use the ferry, a ferry pass can be provided at no extra cost if you are booked to stay at the hotel.

Car Parking:
There is a secure car park in the hotel and the price for this has been waived for those attending the conference. There is also a large availability for free parking outside the hotel and on the surrounding streets.
Things to do:
The event location takes advantage of its proximity and easy access to a host of activities, shopping centres and sight-seeing locations and as such if you are attending with spouses or children who do not want to attend the conference, please do let us know by Friday 11th October by e-mailing trainee@mansag.org or trainee.mansag@gmail.com and we will be able to organise a separate day programme for them